Plateau to Summit: The Ultimate Guide to Take Your business to the Top by Ursula D Garrett
This book is an essential read for entrepreneurial millennials.
The new book "Plateau to Summit: The Ultimate Guide to Take Your Business to the Top!" by Ursula D Garrett is an essential read for millennials aiming to launch their own successful business. This book offers the guidance and vision needed to plan and launch any kind of new company. Tips on building and growing the business are also included, alongside advice on the most profitable exit planning to increase personal wealth.
Defining the vision and mission of any start-up is critical to success in business and professional and personal happiness. Ursula comments: "My book is targeted at global entrepreneurial millennials looking to make their mark in life by starting up in any business sector. Any young entrepreneur needs to follow my mantra 'Take it easy, and if it comes easy then take it twice!' I'm fully aware of what makes global millennials tick, and my book is an easy-to-read start-up launch guide that will enthuse anybody and offers all the tips needed for successful business planning."
Kicking off any new business can be worrying and there are heaps of pitfalls along the way. This useful guide from Ursula D Garrett helps any newbie entrepreneur plan all the steps needed for launching and running a successful start-up. Leading any kind of business can be one of the most rewarding things in life, yet there are lots of common mistakes which cause start-ups to plateau or fail. With Ursula's guidance, novice entrepreneurs learn how to build the solid foundations on which their business will be bedded. Her tips also offer information on growing a successful business and creating an exit strategy that works and enhances overall profitability.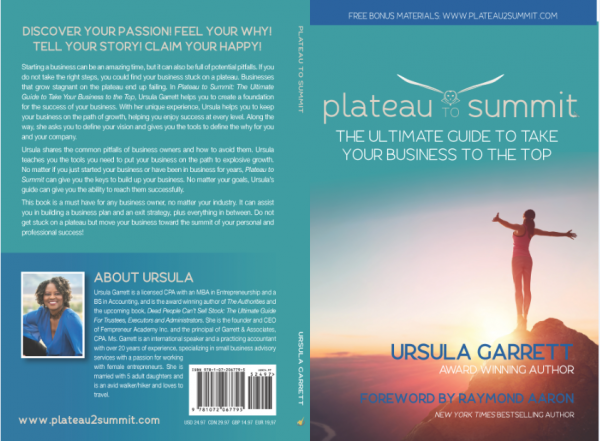 Millennials planning start-ups in any sector will find Ursula's book offers all the tools required for business growth, personal success and enhanced wealth. Plateau to Summit: The Ultimate Guide to Take Your Business to the Top! is the number one resource and reference guide for budding entrepreneurs in the fast-paced, digital environment of today. Anyone with plans to kick off a new business will appreciate the humour and authority offered in Ursula's book, and find learning how to plan a business is really good fun. Ursula also provides online business advice, so readers won't be abandoned in the cut-throat business world following the launch of any start-up.
Find out more at: www.plateau2summit.com
Media Contact
Company Name: GARRETT & ASSOCIATES CPA
Contact Person: Ursula Garrett
Email: Send Email
Phone: +1 951-679-2610 (Work)
Country: United States
Website: https://cpagarrett.com/