New novel "The Seer" by Jeanne Selander Miller is released, the first book of the Full Circle Trilogy about time travel, past lives, karma, and intermingling realities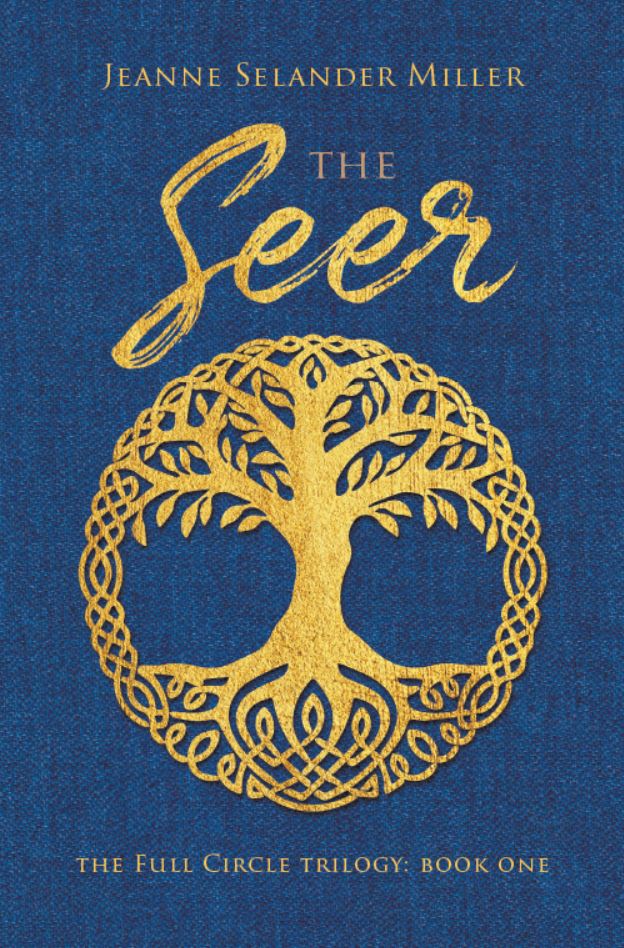 "The Seer" by Jeanne Selander Miller has been released worldwide. This 395-page novel is the first in the Full Circle Trilogy, a series exploring questions about reincarnation, and what would happen if people could retain lessons from previous lives.
From the back cover:
Saga, a skeptical 35-year-old woman, consults a past-life regression therapist to confront the nebulous fear she carries. Why is she so intent on sabotaging her own life?
During the initial session, Saga travels back to 1975 to rural Iowa where she embodies 18-yar-old Fiona Dolan, a farm girl who has always felt like an outsider, even her large, Irish Catholic family. Fiona has been labeled as a storyteller, but this just another way to say they think she is a liar. Even her own mother thinks she's too smart for her own good. Only her grandmother recognizes that she has the gift. Fiona, like her grandmother, is an old soul carrying knowledge from other lifetimes.
A traumatic event catapults her further back in time, where she once lived as a different person. Remembering her past, she struggles with her own capacity for violence as she confronts the realization that members of her family and community betrayed her not only in other lifetimes, but they have followed her into her current life and are seeking revenge.
Fiona's story become intricately intertwined with Saga's as she time travels between both realities. Can she find a way to break the karmic cycle of revenge and retribution?
About the author:
The idea for the Full Circle Trilogy started with a question, and then another, as so many discoveries do – What would reincarnation and karma look like in a world where people were raised with a completely different mindset and understanding of how life works? And what if we could remember all the lessons we learned in other lifetimes?
An internationally acclaimed author, Jeanne has also written a trilogy of memoirs which have been awarded the Best Spiritual Book at the London Book Festival and Honorable Mentions at the Paris International Book Festival and the New York Book Festival. In her first novel, Privileged, Jeanne reveals truths about life in a college prep school and shines a bright light on the grim underbelly accompanying such privilege.
About NH book publisher Seacoast Press:
NH book publisher Seacoast Press provides authors with traditional-quality book publishing services while allowing authors to retain publishing rights and 100% royalties. Seacoast Press' wide variety of publishing services includes book design; editorial; printing; distribution; publicity; and marketing. Seacoast Press books are available through retailers and booksellers worldwide. All Seacoast Press books can be purchased wholesale through Ingram.
To learn more about Seacoast Press, the premier book publisher in NH, visit http://www.seacoastpress.com/
Media Contact
Company Name: SeacoastPress.com
Contact Person: Maggie Kelly
Email: Send Email
Phone: 603-546-2812
Address:1 New Hampshire Ave Suite 125
City: Portsmouth
State: New Hampshire
Country: United States
Website: http://www.seacoastpress.com/