Jillian Hishaw Unveils The History Of U.S. Land Theft In "Systematic Land Theft"
Innovative strategist and attorney, Jillian Hishaw, Esq. releases her new book titled "Systematic Land Theft," where she details the reasons why millions of acres in land ownership have been loss in the Black and Indigenous communities
Jillian Hishaw, is a lot of things put into one, and the philanthropist and social entrepreneur recently took her advocacy for land protection a notch higher with the release of a new book, "Systematic Land Theft." Jillian aims to unveil some nuisances about the history of land theft, wealth, and ownership in her new book.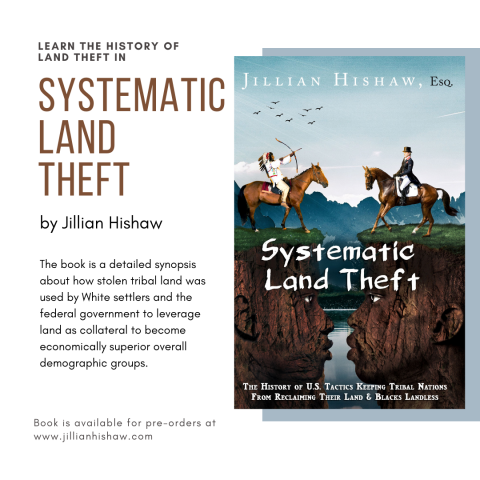 "This book started as a White paper, but over the past 13 years it was transformed into a university course, and now a textbook focused on property law and the history of U.S. land theft to be taught at universities and law schools," Jillian stated.
Jillian Hishaw is known for her position on land protection as a lawyer and public speaker. Over the years, the experienced agricultural attorney and founder of Family Agriculture Resource Management Services (F.A.R.M.S.), an international non-profit that provides legal and technical services to aging farmers while reducing hunger in the farmers rural communities has dedicated her resources to protecting farm families from losing their land assets. Her new book is a further reiteration of her commitment to the cause.
"Systematic Land Theft" details America's plan to ensure that Tribal nations keep reclaiming their land and ultimately leaving the Black community landless. The book reveals why Blacks only own less than one percent of farmland in the U.S. and why Tribal Nations residence on federal reservation lands is restrictive.
"I am excited the book is finally complete. It has been a long time coming, and I know it will be a great resource for years to come for people interested in learning more about U.S. land history," said Jillian Hishaw.
"Systematic Land Theft" will be a nice read for students of history and others interested in knowing hidden facts about the injustice in the United States. The book contains the author's account of her own family's land loss experience as well as stories of Black farmers, policies, legal cases, statistics, and resolutions to reduce the loss of land ownership.
For more information about "Systematic Land Theft" and other works from Jillian Hishaw as an lawyer, strategist, and speaker please visit – www.jillianhishaw.com. Jillian Hishaw can also be found on social media, including Twitter at JHishaw Esq, Facebook and LinkedIn.
About Jillian Hishaw
Jillian Hishaw, is the founder of Family Agriculture Resource Management Services (F.A.R.M.S.), an international non-profit that provides legal assistance to aging small farmers to ensure land ownership for the next generation of farmers of color. Hishaw, is also the author of "Don't Bet the Farm on Medicaid," and was ranked 1 out of 14 Women Changing Food Systems by Food Tank, an international non-profit. Hishaw, is a licensed attorney with a Biology Degree from Tuskegee University, Juris Doctorate and Legal Master in agricultural law from the University of Arkansas-Fayetteville.
Media Contact
Company Name: Systematic Land Theft
Contact Person: Jillian Hishaw
Email: Send Email
Country: United States
Website: http://www.jillianhishaw.com/