DNAKE Announces Eco Partnership with 3CX for Intercom Integration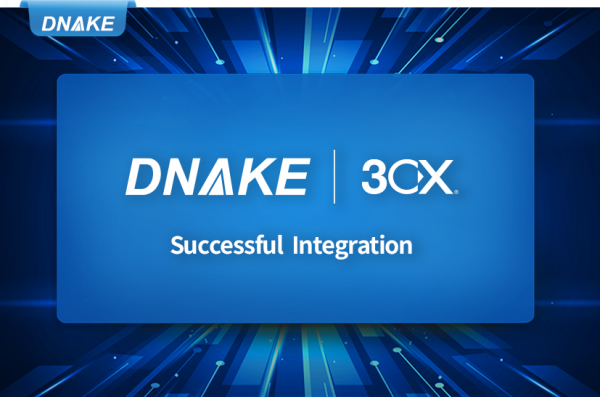 Xiamen, China – December 5th, 2021 – DNAKE, a leading provider of video intercom, today announced the integration of its intercoms with 3CX, stiffening its resolve to create greater interoperability and compatibility with global technology partners. DNAKE will join with 3CX to offer best-of-breed solutions to streamline operations while increasing productivity and security for enterprises.
With the successful completion of the integration, the interoperability of DNAKE intercoms and the 3CX system enable remote intercom communications anywhere and anytime, allowing SMEs to quickly respond and control door access to the visitors.
To put it simply, SME customers can:
Connect DNAKE intercom systems on 3CX software-based PBX;Answer the call from DNAKE intercom and remotely unlock the door for visitors by 3CX APP;Preview who is at the door before granting or denying the access;Receive a call from DNAKE door station and unlock the door on any IP phone;
ABOUT 3CX:
3CX is the developer of an open standards communications solution which innovates business connectivity and collaboration, replacing proprietary PBXs. The award-winning software enables companies of all sizes to cut telco costs, boost employee productivity, and enhance the customer experience. With integrated video conferencing, apps for Android and iOS, website live chat, SMS, and Facebook Messaging integration, 3CX offers companies a complete communications package out of the box.
For more information, please visit: www.3cx.com
ABOUT DNAKE:
Founded in 2005, DNAKE (Xiamen) Intelligent Technology Co., Ltd. (Stock Code: 300884) is a leading provider dedicated to offering video intercom products and smart community solutions. DNAKE provides a comprehensive range of products, including IP video intercom, 2-wire IP video intercom, wireless doorbell, etc. With in-depth research in the industry, DNAKE continuously and creatively delivers premium smart intercom products and solutions.
Visit www.dnake-global.com for more information and follow the company's updates on LinkedIn, Facebook, and Twitter.
Media Contact
Company Name: DNAKE
Contact Person: Media Relations
Email: Send Email
Phone: 86-592-5705812
Country: China
Website: https://www.dnake-global.com/