Agricultural Micronutrients Market: Drivers, Restraints, Opportunities, and Challenges
The agricultural micronutrients market is projected to reach USD 8.81 Billion by 2022, growing at a CAGR of 8.60% from 2017, in terms of value. In terms of volume, the market is projected to reach 1,681.1 KT by 2022.
The report "Agricultural Micronutrients Market by Type (Zinc, Boron, Copper, Manganese, Molybdenum, and Iron), Mode of Application (Soil, Foliar, and Fertigation), Form (Chelated and Non-Chelated), Crop Type, and Region – Global Forecast to 2022″, With the shift in preferences of health-conscious consumers toward nutrient-dense and high-protein diets, farmers are monitoring and analyzing the requirement of nutrients in crops. To increase the crop yield, farmers across the world are spending on high-analysis NPK fertilizers, which further deplete the micronutrient quotient of these crops. To enhance the nutrient quotient in their produce and agricultural productivity, farmers utilize agricultural micronutrients. According to MarketsandMarkets, the agricultural micronutrients market is projected to account for a value of USD 8.8 billion by 2022, recording a CAGR of 8.6%.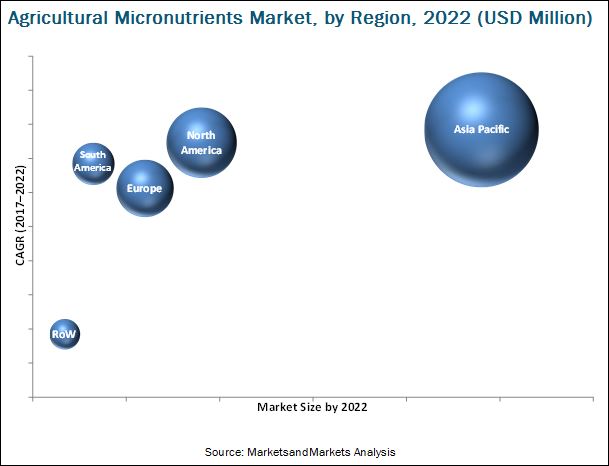 Download PDF Brochure: https://www.marketsandmarkets.com/pdfdownloadNew.asp?id=968
Increase in soil deficiency
Since the last two decades, micronutrient deficiencies in the soil have been increasingly evident, especially the deficiency of zinc and boron. Zinc micronutrient deficiencies are witnessed across the globe; however, they are more common in growing economies such as India, Brazil, and China. Excess application of inorganic fertilizers is one of the major reasons causing soil deficiencies. Originally, soils are deficient in one or more micronutrients; however, increased intake of nutrients by high-yielding crops has caused a heavy shortage of micronutrient elements (iron, manganese, zinc, copper, boron, nickel, and molybdenum). According to the International Fertilizer Association (IFA), currently, almost 50% of the world's cereal crops are deficient in zinc, which is leading to poor crop yields. Zinc deficiency is the fifth leading risk factor for diseases in developing countries. A decreased uptake of micronutrients due to interaction with other soil components and an increased demand for high-yield crops are the two major reasons for micronutrient deficiency. Intensive usage of fertilizers, chemicals, and farm irrigation is responsible for reducing the level of micronutrients in the soil. Reduction of the supply of micronutrient to crops reduces productivity and damages the quality of crops. To maintain the nutrient level in crops and soil, micronutrient plays an important role, which in turn drives the market growth for agricultural micronutrients.
Lack of awareness among farmers
A lack of awareness is witnessed regarding the usage and advantages of micronutrients for crops and plants by farmers. Adoption of new agricultural practices by farmers depends on factors such as practical viability, economic sustainability, social acceptability, administrative harmony, political obligation, and eco-friendliness. Farmers who cannot adopt such practices are following traditional agricultural methods, which act as a restraint to the growth of this market.
As many farmers are not aware of the importance of micronutrients, they do not perform a soil test to diagnose micronutrient deficiency levels. The efforts of NGOs and governments are inadequate to educate farmers about the advantages of micronutrients. Very few companies have taken initiatives to educate farmers regarding the benefits of micronutrients. The efforts taken by government bodies around the globe for educating farmers are also limited.
Request for Customization: https://www.marketsandmarkets.com/requestCustomizationNew.asp?id=968
Asia Pacific To Be a Leading Region in the Agricultural Micronutrients Market During the Forecast Period
With the growing population in various countries of the region, the consumption of nutrient-dense food products continues to remain high. Health-conscious consumers prefer spending on fruits and cereals to improve and maintain their health. Due to the high consumption of crops such as cereals and fruits in this region, the demand for agricultural micronutrients is projected to remain high, particularly in New Zealand, India, Australia, and China.
Major players in the agricultural micronutrients market are adopting strategies such as agreements and expansions. Key players identified in this market include Agrium (Canada), Dow Chemical (US), Coromandel International (India), Land O'Lakes (US), Haifa Chemicals (Israel), and Helena Chemicals (US).
Media Contact
Company Name: MarketsandMarkets
Contact Person: Mr. Shelly Singh
Email: Send Email
Phone: 1-888-600-6441
Address:630 Dundee Road Suite 430
City: Northbrook
State: IL
Country: United States
Website: https://www.marketsandmarkets.com/Market-Reports/agriculture-micronutrients-market-968.html