reBel Batteries launches Metal Cased 12V 100Ah LiFePO4 Bluetooth-enabled Battery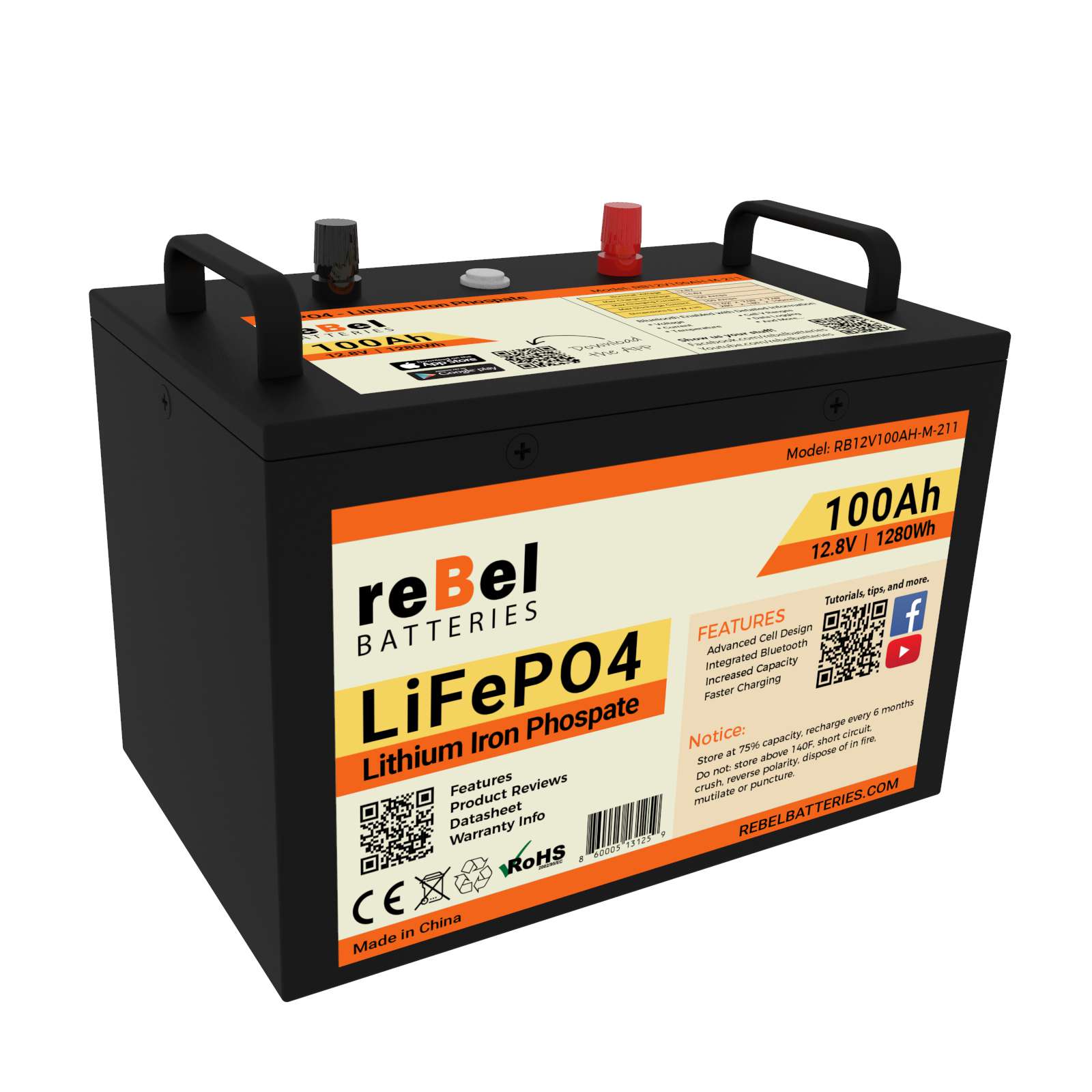 "Our metal-cased 12V 100Ah lithium iron phosphate battery with Bluetooth is a rugged and dependable renewable energy storage solution with a life expectancy of over 10 years." – reBel Batteries
March 23, 2021 – The world continues its march towards sustainable living as the team at reBel Batteries announces the launch of its metal-cased LiFePO4 battery, a smart and renewable Bluetooth-operable battery running at 12V with a 100Ah capacity.
The need for sustainable development has led to increased use of renewable energy solutions. As a result, power solutions backed by renewable energy are in high demand. Batteries are the powerhouse of most solar storage and grid applications, and the metal cased LiFePO4 12V 100Ah battery is the latest battery on the block introduced by reBel Batteries as a foundational piece to any renewable energy-based power system. Enhanced with Bluetooth connectivity, this Lithium Iron Phosphate (LiFePO4) battery is SMART and comes with a robust metal cased house made of high-quality powder-coated steel.
The SMART battery is in line with the latest technology demands of today and can be controlled via a connected app available on Android and iOS platforms. This new product from the reputed battery brand offers longer service life, is lighter in weight, delivers more efficient usable power, and promises all-around versatility. Compared to the usual lead-acid battery technology, this Lithium Iron Phosphate (LiFePO4) battery allows for 100% discharge and is also high on durability as it can offer 2500-7000 charge cycles depending on the depth-of-discharge per cycle.
reBel Batteries is an innovative power-solutions provider based in the US. The brand identifies this LiFePO4 battery as an optimal long-lasting product for DIY solar power systems. In their words, "Our metal-cased 12V 100Ah lithium iron phosphate battery with Bluetooth is a rugged and dependable renewable energy storage solution with a life expectancy of over 10 years."
Investing in LiFePO4 batteries can therefore be a one-time decision offering long-lasting benefits. This renewable stored-power solution is deemed ideal for use as energy backups in RV campers, sailboats, off-grid solar homes, golf carts, medical devices, and more.
The 12v 100Ah LiFePO4 batteries also offer assurance to the consumers with complete built-in protection, enhanced with an advanced Bluetooth-enabled Battery Management System (BMS). This makes the solar lithium battery immune to sudden short circuits, overcharging, over-discharging, over-current, etc. Additionally, the batteries can also protect the internal power systems during high temperature and low-temperature cut-offs.
For more information, please visit: https://rebelbatteries.com
Media Contact
Company Name: ReBel Batteries
Contact Person: Aric Shelby
Email: Send Email
Address:5900 Balcones Dr. STE 100
City: Austin
State: Texas 78731
Country: United States
Website: https://rebelbatteries.com/