TRK Fusion Cancer Pipeline Insights, 2021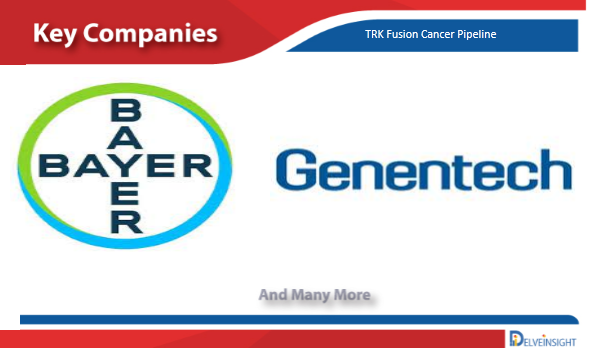 "TRK Fusion Cancer Pipeline" has been added to DelveInsight
TRK Fusion Cancer Pipeline analysis across different stages of development (Phase III and Phase II), different emerging trends and comparative analysis of pipeline products with detailed clinical profiles, key cross-competitors, launch date along with product development activities.
Download free sample copy- https://www.delveinsight.com/sample-request/trk-fusion-cancer-pipeline-insight
TRK Fusion Cancer Overview
Tropomyosin receptor kinase (TRK) is family of three neurotrophic receptor tyrosine kinase proteins (TRKA, TRKB, and TRKC) encoded by the NTRK1, NTRK2, and NTRK3 genes located on chromosomes 1q23.1, 9q21.33, and 15q25.3, respectively.
Oncology
Genentech
Turning Point Therapeutics
Bayer
Exelixis
Larotrectinib (Vitrakvi)
Entrectinib (Rozlytrek)
Selitrectinib (BAY 2731954, LOXO-195)
Cabozantinib
TRK Fusion Cancer Emerging Therapy Assessment
Companies across the globe are diligently working toward the development of novel treatment therapies with a considerable amount of success over the years. Turning Point Therapeutics is developing Repotrectinib for the treatment of NTRK+ solid cancers. It is an orally administered tyrosine kinase inhibitor being evaluated in an ongoing phase I/II trial called TRIDENT-1 for both TKI-naïve and TKI-pretreated patients with ROS1+ advanced NSCLC and ROS1+, NTRK+ or ALK+ advanced solid tumors. It was designed to efficiently bind with the active kinase conformation and avoid steric interference from a variety of clinically resistant mutations.
TRK Fusion Cancer Diagnosis
The diagnosis of this gene fusion can be identified by various approaches, including fluorescent in situ hybridization, reverse transcription-polymerase chain reaction, immunohistochemistry, next-generation sequencing, and ribonucleic acid-based multiplexed assays.
TRK Fusion Cancer Therapy
The targeted precision therapy is now one of the emerging approaches to treat various cancers based on the specific genetic alternation identified in them. Recently, Rozlytrek and Vitrakvi are approved for the treatment of solid tumors with NTRK gene fusion. The US FDA has also granted them priority review, breakthrough therapy designation and orphan product designation.
TRK Fusion Cancer Treatment
With the advancement in genetic testing, cases of TRK fusion cancer is more common among various cancer types. Progress in the understanding of TRK family biology with the growing recognition of TRK fusion in various cancers has fueled interest in the development of small-molecule inhibitors of TRK. Now, companies are also focusing on precision medicines. Two breakthroughs in the treatment of TRK fusion cancer is the recent approval of larotrectinib (Vitrakvi) and entrectinib (Rozlytrek). Moreover, various TRK inhibitors are also in clinical stages of development.
TRK Fusion Cancer Report Scope
The TRK Fusion Cancer report provides an overview of therapeutic pipeline activity and therapeutic assessment of the products by development stage, product type, route of administration, molecule type, and MOA type for TRK Fusion Cancer across the complete product development cycle, including all clinical and nonclinical stages.
It comprises of detailed profiles of TRK Fusion Cancer therapeutic products with key coverage of developmental activities, including technology, collaborations, licensing, mergers and acquisition, funding, designations and other product-related details
Detailed TRK Fusion Cancer research and development progress and trial details, results wherever available, are also included in the pipeline study.
Coverage of dormant and discontinued pipeline projects along with the reasons if available across TRK Fusion Cancer.
Download free sample copy- https://www.delveinsight.com/sample-request/trk-fusion-cancer-pipeline-insight
Table of content
1. Report Introduction
2. TRK Fusion Cancer
3. TRK Fusion Cancer Current Treatment Patterns
4. TRK Fusion Cancer – DelveInsight's Analytical Perspective
5. Therapeutic Assessment
6. TRK Fusion Cancer Late Stage Products (Phase-III)
7. TRK Fusion Cancer Mid Stage Products (Phase-II)
8. Early Stage Products (Phase-I)
9. Pre-clinical Products and Discovery Stage Products
10. Inactive Products
11. Dormant Products
12. TRK Fusion Cancer Discontinued Products
13. TRK Fusion Cancer Product Profiles
14. TRK Fusion Cancer Key Companies
15. TRK Fusion Cancer Key Products
16. Dormant and Discontinued Products
17. TRK Fusion Cancer Unmet Needs
18. TRK Fusion Cancer Future Perspectives
19. TRK Fusion Cancer Analyst Review
20. Appendix
21. Report Methodology
What are the key questions answered?
What are the current options for TRK Fusion Cancer treatment?
How many companies are developing therapies for the treatment of TRK Fusion Cancer?
What are the principal therapies developed by these companies in the industry?
How many therapies are developed by each company for the treatment of TRK Fusion Cancer?
How many TRK Fusion Cancer emerging therapies are in early-stage, mid-stage, and late stage of development for the treatment of TRK Fusion Cancer?
Out of total pipeline products, how many therapies are given as a monotherapy and in combination with other therapies?
What are the key collaborations (Industry-Industry, Industry-Academia), Mergers and acquisitions, and major licensing activities that will impact TRK Fusion Cancer market?
Which are the dormant and discontinued products and the reasons for the same?
What is the unmet need for current therapies for the treatment of TRK Fusion Cancer?
What are the recent novel therapies, targets, mechanisms of action and technologies developed to overcome the limitation of existing TRK Fusion Cancer therapies?
What are the clinical studies going on for TRK Fusion Cancer and their status?
What are the results of the clinical studies and their safety and efficacy?
What are the key designations that have been granted for the emerging therapies for TRK Fusion Cancer?
How many patents are granted and pending for the emerging therapies for the treatment of TRK Fusion Cancer?
Related Reports
TRK Fusion Cancer Market
DelveInsight' s TRK Fusion Cancer – Market Insights, Epidemiology and Market Forecast – 2030 report provides the detailed overview of the disease and in depth understanding of historical and forecasted epidemiology.
TRK Fusion Cancer Epidemiology
DelveInsight's TRK Fusion Cancer – Epidemiology Forecast 2030 report delivers an in-depth understanding of the disease, historical, and forecasted epidemiology of TRK Fusion Cancer in the United States, EU5 (Germany, France, Italy, Spain, and the United Kingdom), and Japan.
Media Contact
Company Name: DelveInsight Business Research LLP
Contact Person: Ankit Nigam
Email: Send Email
Phone: 9193216187
Address:304 S. Jones Blvd #2432
City: Albany
State: New York
Country: United States
Website: www.delveinsight.com/